Bringing intelligence to the edge with Cloud IoT
The internet of things (IoT) presents us with enormous opportunities to positively affect the world around us—everything from increasing air quality to easing traffic to saving water and electricity. We can measure the world in new ways that can impact lives for the better.
But just as opportunities increase with IoT, so does data. IDC estimates that the total amount of data generated from connected devices will exceed 40 trillion gigabytes by 2025. This is where advanced data analytics and AI systems can help, to extract insights from all that data quickly and easily.
There are also many benefits to be gained from intelligent, real-time decision-making at the point where these devices connect to the network—what's known as the "edge." Manufacturing companies can detect anomalies in high-velocity assembly lines in real time. Retailers can receive alerts as soon as a shelved item is out of stock. Automotive companies can increase safety through intelligent technologies like collision avoidance, traffic routing, and eyes-off-the-road detection systems.
But real-time decision-making in IoT systems is still challenging due to cost, form factor limitations, latency, power consumption, and other considerations. We want to change that.
Bringing machine learning to the edge
Today, we're announcing two new products aimed at helping customers develop and deploy intelligent connected devices at scale: Edge TPU, a new hardware chip, and Cloud IoT Edge, a software stack that extends Google Cloud's powerful AI capability to gateways and connected devices. This lets you build and train ML models in the cloud, then run those models on the Cloud IoT Edge device through the power of the Edge TPU hardware accelerator.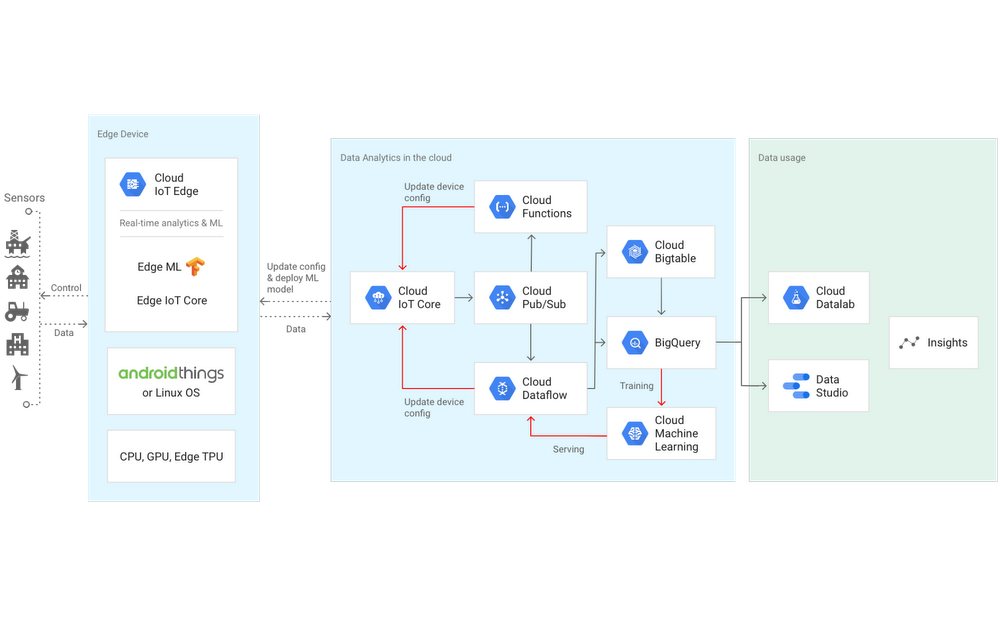 Edge TPU is Google's purpose-built ASIC chip designed to run TensorFlow Lite ML models at the edge. When designing Edge TPU, we were hyperfocused on optimizing for "performance per watt" and "performance per dollar" within a small footprint. Edge TPUs are designed to complement our Cloud TPU offering, so you can accelerate ML training in the cloud, then have lightning-fast ML inference at the edge. Your sensors become more than data collectors—they make local, real-time, intelligent decisions.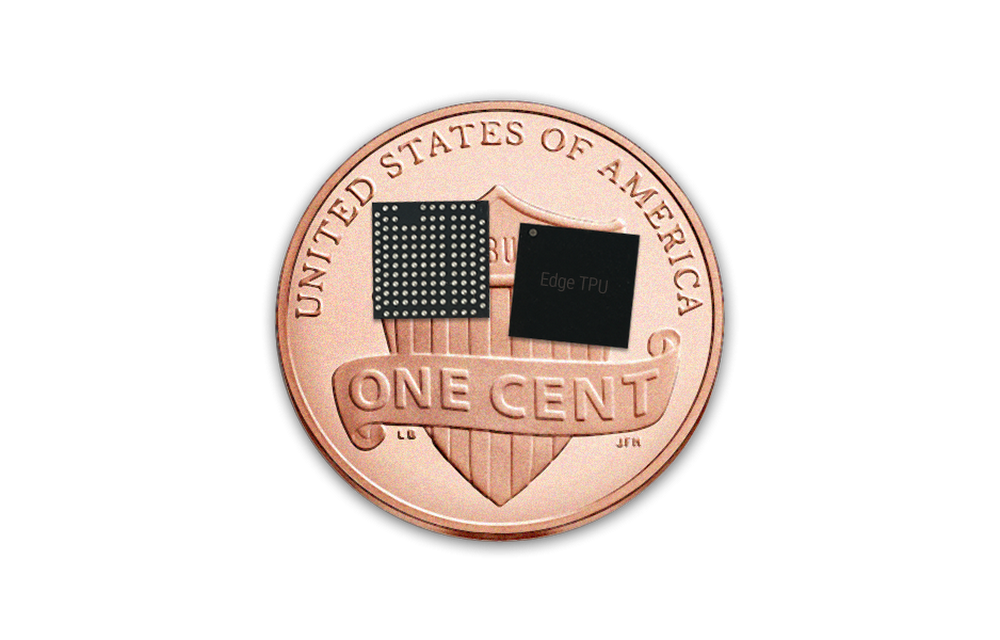 Cloud IoT Edge is the software that extends Google Cloud's powerful data processing and machine learning capabilities to gateways, cameras, and end devices, making IoT applications smarter, more secure and more reliable. It lets you execute ML models trained in Google Cloud on the Edge TPU or on GPU- and CPU-based accelerators. Cloud IoT Edge can run on Android Things or Linux OS-based devices, and its key components are:
A runtime for gateway class devices, with at least one CPU, to locally store, translate, process, and derive intelligence from data at the edge, while seamlessly interoperating with the rest of Cloud IoT platform.
The Edge IoT Core runtime that more securely connects edge devices to the cloud, enabling software and firmware updates and managing the exchange of data with Cloud IoT Core.
The TensorFlow Lite-based Edge ML runtime that performs local ML inference using pre-trained models, significantly reducing latency and increasing the versatility of edge devices. Because the Edge ML runtime interfaces with TensorFlow Lite, it can execute ML inference on a CPU, GPU or an Edge TPU in a gateway class device, or in an end device such as a camera.
How machine learning at the edge benefits businesses
Businesses can benefit by bringing machine learning to the edge in several different ways.
Increased operational reliability
Because you can locally store, process, and derive intelligence from data at the edge, you can build robust IoT solutions on-premise, without worrying about intermittent cloud connectivity. This can be helpful for video and audio applications that require real-time processing, or use cases where devices can't reliably connect to an external network or the internet.
Faster real-time predictions
By running on-device machine learning models, Cloud IoT Edge with Edge TPU provides significantly faster predictions for critical IoT applications than general-purpose IoT gateways—all while ensuring data privacy and confidentiality. Plus, Cloud IoT Edge and Edge TPU have been extensively tested to natively run open source reference models like MobileNet and Inception V3.
Increased security for devices and data
Cloud IoT Edge can process and analyze images, videos, gestures, acoustics, and motion locally on edge devices, instead of needing to send raw data to the cloud and then wait for a response. This local processing addresses certain industry-specific compliance needs and reduces data privacy risks. And Cloud IoT Edge uses a JSON Web Token to authenticate edge devices so that the private key never leaves the device.
Introducing the Edge TPU development kit
To jump-start development and testing with the Edge TPU, we've built a development kit. This kit includes a system on module (SOM) that combines Google's Edge TPU, a NXP CPU, Wi-Fi, and Microchip's secure element in a compact form factor. It'll will be available to developers this October. To request early access to the Edge TPU development kit, sign up via this form.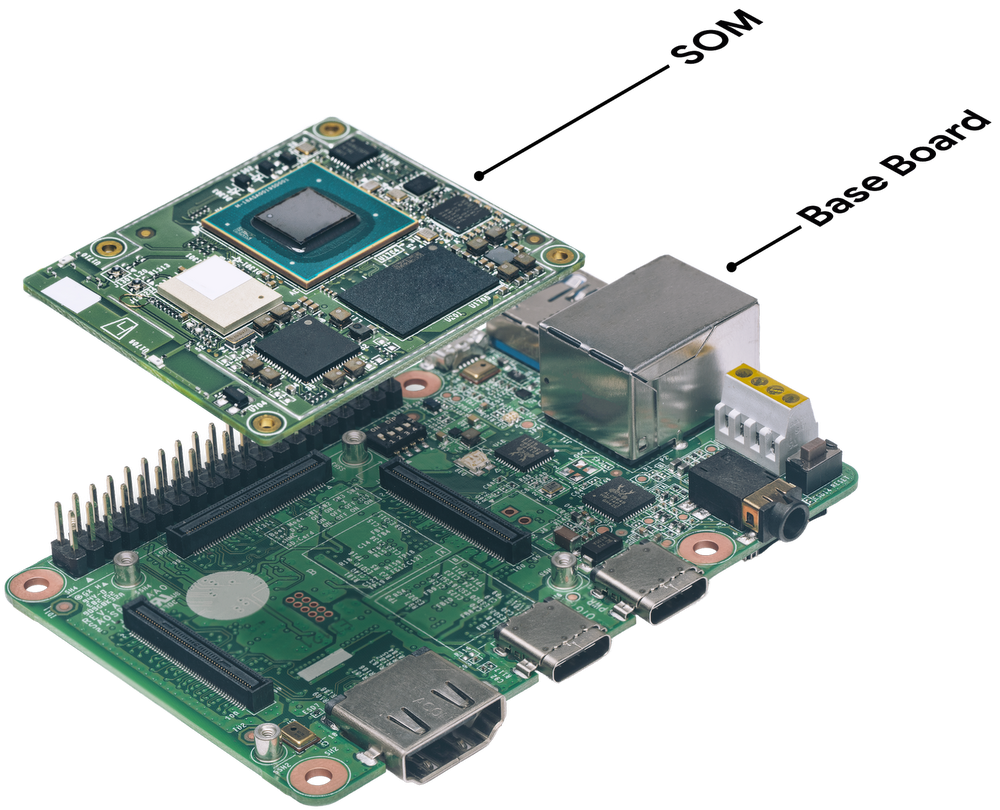 The Edge TPU development kit—SOM (above) and baseboard (above)
Getting started
Cloud IoT Edge, Edge TPU and Cloud IoT Core are opening up completely new possibilities with IoT. With powerful data processing and ML capabilities at the edge, devices such as robotic arms, wind turbines and smart cars can now act on the data from their sensors in real time and predict outcomes locally. For IoT, this is the future—and we can't wait to see what you build with Google Cloud IoT.